Photography
We require a photo permit for all posed and professional photography.
Approved photo permit is processed for $300 and is valid for 1.5 hours on date requested.
Please allow 30 days to schedule your permit.
Paid reservation reserves up to three areas within the Arboretum for approved photography session. Please see map for locations.
Photography reservations are allowed as follows:

March through September 12:00 pm to 6:00pm;
October through February 12:00 pm to 5:00pm
*ending times may be adjusted according to sunset time*

Group photos limited to 10 people per group (including photographer). Groups larger than 10 people will incur larger fee.
You must give the office a minimum of 24 hours notice prior to your reservation to reschedule — otherwise permit is forfeited.
There are no refunds.
Photography Categories
There are two categories of photography permits: Personal and Commercial.
Personal photography includes photos for weddings, engagements, pregnancies, birthdays and other special occasions as well as general family photos. No video allowed. Pricing is affected by group size.
Commercial photography/videography includes photography and videography for commercial, business or social-media use and must be contracted through the Facility Rentals Manager at 657-278-3407 . Commercial photographers may obtain a special contract to take pictures or shoot video on the grounds of the Arboretum if it is commercial in nature and for resale or for commercial clients.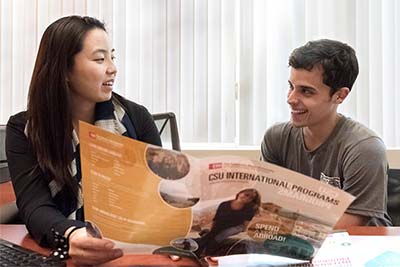 Advising
No matter where you are in the Study Abroad process, our advisors are always here to help you create an ideal Study Abroad experience that will align with both your personal and academic goals. To schedule an appointment or learn more about walk-in advising, please visit our Contact page.