Volunteer
Do you enjoy the outdoors, learning about plants and meeting new people? Are you a lover of local history? Please consider volunteering at Fullerton Arboretum. You will enjoy an enriching experience as you help fulfill the Arboretum's mission of education, conservation and preservation.
Current volunteers: Log in here to view available activities.
New Volunteer Information & Orientation Session and Training
Tuesday, September 26, 1-3 P.M.
All volunteers participate in orientation, onboarding, and training activities prior to volunteering.
Interested in learning more about the many volunteer opportunities at Fullerton Arboretum? Email FAVolunteer@fullerton.edu for more information and complete the Volunteer Inquiry Request to get started.
Choose a Volunteering Adventure
There are many different ways to help out at Fullerton Arboretum. Choose how you want to volunteer:
Horticulture Volunteers
Develop and maintain the living collections.
Care for our rare and stone fruit orchards.
Propagate and grow plants in our nursery.
Learn about environmentally responsible gardening and plant identification.
Discovery Station Leader
Support our Environmental Education program by serving at one of our many diverse Discovery Stations throughout the garden. Discovery Station Leaders work with established materials and script to provide 5-10 minute information sessions to visiting families, schools and tour groups.
Stations include:
What is an Arboretum?
Conifers
Fire Ecology
Ponds
Birds
Pollinators
Children's Garden
Deserts
Chaparral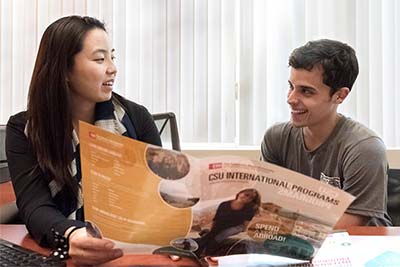 Advising
No matter where you are in the Study Abroad process, our advisors are always here to help you create an ideal Study Abroad experience that will align with both your personal and academic goals. To schedule an appointment or learn more about walk-in advising, please visit our Contact page.