Upcoming Events
Make the Arboretum your go-to place for huge plant sales and unique, fun events.
Sunday
Nov. 20, 2022
10 a.m. - 2 p.m.


America Recycles Day Discovery Station
EVENT
Join us to celebrate America Recycles Day!
We all know about recycling, but do you know the four other "re" actions that help our planet? Visit our "Trash Talk" Discovery Station on November 20th from 10 a.m.–2 p.m. and find out! We'll also explore other topics, including:
What percentage of recyclable material is recycled?
How can dental hygiene save open space?
How many jobs are created by recycling?
Tips for being an even smarter consumer!
SAT. -THURS.
DEC. 3 -8, 2022

Art Exhibits
EXHIBIT
We will be hosting exhibits for the thesis of two Cal State Fullerton Master of Fine Arts students:
Chen Liu is a Graphic and Interactive Design major. His project, "Design comes from Life," takes inspiration from the world around him. Chen hopes that people find relief from stress by viewing his work.
Leonardo Contreras will be exhibiting an art sculpture project. He is excited to be presenting his work in an unconventional way at the Arboretum, surrounded by nature. After completing the Masters in Fine Arts program, Leonardo hopes to teach sculpting classes full-time.
Visit the Nature Center and Wisteria Arbor daily from December 3rd-December 8th to meet the artists and view their exhibits!
Dec. 2-3, 2022
Jan. 6-7, 2023
Plant Sales
Plant Sale
Check out over 100 varieties of California-native and ornamental plants grown right here at the Arboretum!
Friday, December 2nd, 2–4:30 p.m., Fullerton Arboretum members* and Titan Card holders only.
Saturday, December 3rd, 9 a.m.–3 p.m., Open to the public. There will also be a sage giveaway** from 9 a.m.–12 p.m. Come pick up a free California White Sage (Salvia apiana) plant!
*Members receive a 10% discount on all plant purchases during the sale.
**One per person while supplies last.

2023 volunteer Orientations Coming soon


more Member exclusive events coming soon


Curator Walks
MEMBERS ONLY EVENT
Join Curator Greg Pongetti or one of our horticulturists for a walking tour of the Arboretum after hours! This is an exclusive invitation for members only.* You'll get to learn about the garden from the perspective of our Curator and view particular collections at their seasonal peak.
We have a few upcoming dates, which all take place from 4:30 - 5:30 p.m. Space is limited, so don't wait to RSVP!
Stay tuned for new upcoming dates.
*Individual Membership admits member, Dual admits 2 people and Arboretum Partner admits 4 people. | **Subject matter may change.
Email hbouldin@fullerton.edu to reserve your spot.
This Event has been postponed to a later date tbd
National Hummingbird Day
EVENT
Celebrate National Hummingbird Day at Fullerton Arboretum. Meet author Susanne Strauss who has written a children's educational photography book about the development of a baby hummingbird, from hatch to fledge. Steve Karl, a microscopist/staff photographer from the CSUF Department of Biology, will give a short talk on hummingbird photography at the bleachers at 9:30 a.m.
This Event has been postponed to a later date tbd
Taste the Fruits of the Season
members only EVENT
Come enjoy samples of a variety of seasonally ripe fruits from the Arboretum. The arboretum staff will be available for questions and will provide more information about the fruits. Samples are available while supplies last. This is an exclusive invitation for members* only.
Email hbouldin@fullerton.edu to reserve your spot.
*Individual membership admits member only, Dual admits two people, Arboretum Partner admits 4 people.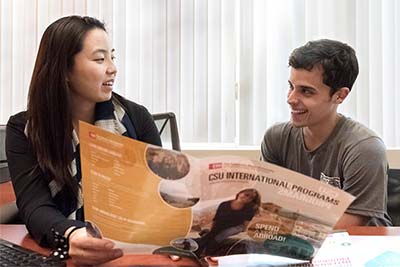 Advising
No matter where you are in the Study Abroad process, our advisors are always here to help you create an ideal Study Abroad experience that will align with both your personal and academic goals. To schedule an appointment or learn more about walk-in advising, please visit our Contact page.