Upcoming Events
Make the Arboretum your go-to place for huge plant sales and unique, fun events.
July 19
August 16
September 20
6:30 - 8:00 p.m.


Summer Stroll through the Arboretum
EVENT
The Arboretum can be experienced any time of the year, but not always any time of the day. Take advantage of this rare opportunity to enjoy the beauty and serenity of the garden after hours.
Join us for a relaxing evening stroll through the plant collections. The Friends of the Fullerton Arboretum are hosting complimentary refreshments and live music by students from CSUF School of Music.
Tuesdays, 6:30 - 8:00 p.m.
July 19, August 16, September 20
Free for members* and $10 for non-members
Check in at the front gate - you can also purchase/renew your membership the evening of the stroll.
*Individual membership admits member only, Dual admits two people, Arboretum Partner admits 4 people.
Tues June 21
Fri-Sun June 24-26
11AM - 2PM


Celebrate National Pollinator Week at the Fullerton Arboretum!
EVENT
Discover the Dynamic Duos of plants and pollinators, superheroes of the garden. Learn how you can go to BAT for plants and BEE a superhero for pollinators. Fly in and join the fun with games, a scavenger hunt and more.
Fullerton Arboretum is a HIVE of activity!
Fullerton Arboretum Member Day preview: Tuesday, June 21, 11 a.m. - 2 p.m.
Open to the Public: Friday - Sunday, June 24-26, 11 a.m. - 2 p.m.
July 12
August 9
4:30 - 5:30 p.m.


Curator Walks
MEMBERS ONLY EVENT
Join Curator Greg Pongetti for a walking tour of the Arboretum after hours! This is an exclusive invitation for members only.* You'll get to learn about the garden from the perspective of our Curator and view particular collections at their seasonal peak.
We have a few upcoming dates, which all take place from 4:30 - 5:30 p.m. Space is limited, so don't wait to RSVP!
July 12: Rare Plants**
August 9: Our Fabulous Ficus**
*Individual Membership admits member, Dual admits 2 people and Arboretum Partner admits 4 people. | **Subject matter may change.
Email hbouldin@fullerton.edu to reserve your spot.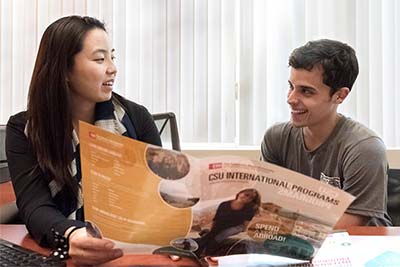 Advising
No matter where you are in the Study Abroad process, our advisors are always here to help you create an ideal Study Abroad experience that will align with both your personal and academic goals. To schedule an appointment or learn more about walk-in advising, please visit our Contact page.