Upcoming Events
Make the Arboretum your go-to place for huge plant sales and unique, fun events.
Garden Flea Market
EVENT
Join us on Thursday, April 6th from 12 - 4 p.m. at Bacon Pavilion for the first ever Garden Flea Market! There will be 24 different student-run vendors selling their products, a live DJ, a food truck, raffles and more. Admission is free, and the first 100 people will receive food from Baby's Burgers! For more information, check out the event's official Instagram page, @gardenfleamarket.csuf.
Veggiepalooza Plant Sale
Plant Sale
Over 200 varieties of vegetables and herbs to choose from. All of the plants offered for sale are grown right here at the Arboretum!
Friday, April 14th, 1–5 p.m., Fullerton Arboretum members* and Titan Card holders only.
Saturday, April 15th, 9 a.m.–3 p.m., Open to the public.
Sunday, April 16th, 11 a.m.–2 p.m., Open to the public.
*Members receive a 10% discount on all plant purchases during the sale.

Springtime Strolls at the Arboretum
event
Dates: Tuesday, May 9, and Friday, June 23
Time: 5:30-7:30 p.m.
Join us for three beautiful evening strolls in the Garden. Complimentary beverages, snacks and live music to enhance these special evenings.
Members - Free
Non-members - $10/person
Children under 12 - Free
New Volunteer Info & Orientation
EVENT
Interested in learning more about the many volunteer opportunities at Fullerton Arboretum? Visit our Volunteer page to complete the online Volunteer Inquiry Request form or you can email us at FAVolunteer@fullerton.edu for more information.
Thursday, March 30, 2023; 12PM-2PM
Saturday, April 8, 2023; 9:30-11:30AM
Saturday, April 22, 11AM- 1PM
Member exclusive events
Apr. - May


Curator Walks
MEMBERS ONLY EVENT
Join Curator Greg Pongetti or one of our horticulturists for a walking tour of the Arboretum after hours! This is an exclusive invitation for members only.* You'll get to learn about the garden from the perspective of our Curator and view particular collections at their seasonal peak.
Walks will take place each Tuesday at 4:30 p.m. and continue through April and May, weather permitting.
*Individual Membership admits member, Dual admits 2 people and Arboretum Partner admits 4 people. | **Subject matter may change.
Email hbouldin@fullerton.edu to reserve your spot.
This Event has been postponed to a later date tbd
National Hummingbird Day
EVENT
Celebrate National Hummingbird Day at Fullerton Arboretum. Meet author Susanne Strauss who has written a children's educational photography book about the development of a baby hummingbird, from hatch to fledge. Steve Karl, a microscopist/staff photographer from the CSUF Department of Biology, will give a short talk on hummingbird photography at the bleachers at 9:30 a.m.
This Event has been postponed to a later date tbd
Taste the Fruits of the Season
members only EVENT
Come enjoy samples of a variety of seasonally ripe fruits from the Arboretum. The arboretum staff will be available for questions and will provide more information about the fruits. Samples are available while supplies last. This is an exclusive invitation for members* only.
Email hbouldin@fullerton.edu to reserve your spot.
*Individual membership admits member only, Dual admits two people, Arboretum Partner admits 4 people.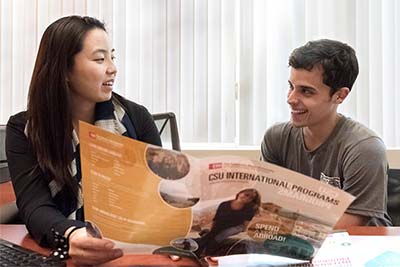 Advising
No matter where you are in the Study Abroad process, our advisors are always here to help you create an ideal Study Abroad experience that will align with both your personal and academic goals. To schedule an appointment or learn more about walk-in advising, please visit our Contact page.