Plan Your Visit
The Arboretum is a plant museum for people of all ages to learn about plants from around the world.
By keeping the following in mind when you visit, you contribute to the preservation of the plant collections and natural habitats at the Arboretum:
Please:
Consider making a donation of $5 per person.
Learn about plants, trees and their native habitats.
Observe wildlife.
Take nature photography pictures for personal (non-commercial*) use.
Stay on the pathways and lawns.
Supervise young children.
Please no:
Collecting plants, flowers, fruits, seeds or animals
Smoking or Alcohol
Animals of any type including emotional support animals (Service Dogs excluded)
Bicycles, skateboards or sporting activities
Picnics
Feeding wildlife
Tree/rock climbing
Wading in the ponds or streams
Releasing animals (including fish)
Fishing
Adhere to hourly parking signage enforced by CSUF Parking and Transportation Services

*Commercial or posed photography by permit only
Activities to Try
There are many ways to relax and practice mindfulness at the Arboretum. Here are some activities designed by CSUF students that you can try during your next visit!
Mindfulness Scavenger Hunt
Meditation with the Senses
Counting Your Blessings and Branches
Memories Referencing Nature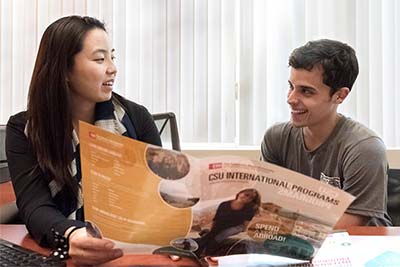 Advising
No matter where you are in the Study Abroad process, our advisors are always here to help you create an ideal Study Abroad experience that will align with both your personal and academic goals. To schedule an appointment or learn more about walk-in advising, please visit our Contact page.