Mission
The mission of Fullerton Arboretum is to support the academic mission of CSUF with a world class living and historical collection and to provide learning opportunities for every stage of life, extending our resources into the local community and around the globe to foster an appreciation for plant conservation, botanical research and horticulture.
Vision
To have Arboretum programs and degrees exclusively offered through CSUF that inspire people of all ages to care for our natural environment.
Values
The values that form the foundation upon which Fullerton Arboretum operates are:
Environmental stewardship and conservation
Education and research
Volunteerism
Professionalism
Integrity
Partnering
Cultivating a Vibrant Future, 2005-2020 Strategic Plan
Fullerton Arboretum Strategic Plan Update 2021-2026
Arboretum Accreditation Program
ArbNet created its Arboretum Accreditation Program to establish and share a widely recognized set of industry standards for the purpose of unifying the arboretum community. The program includes four levels of accreditation recognizing arboreta at various degrees of development, capacity and professionalism.
In 2017, Fullerton Arboretum achieved ArbNet's Level IV accreditation. We became one of three arboreta in the state of California and one of 28 arboreta in the world to achieve this level of accreditation. As part of California State University, Fullerton, Fullerton Arboretum collaborates on research with faculty, engages with other institutions on conservation projects and has an extensive tree collection with an associated database. Our nursery helps to propagate, conserve and safeguard our collections and other threatened plants. Fullerton Arboretum's living collection is home to many important plants, including rare, threatened and endangered species, specimens collected from the wild and cultivars of historical significance, including our nationally recognized citrus collection.
Governance
The Joint Powers Agreement ended December 3, 2020, making Fullerton Arboretum a fully integrated department within the self-support division of Extension and International Programs at CSUF.
2022-23 Board of Directors, Friends of the Arboretum
Linda Parton: President
Mary Dalessi: Secretary
Marsha Adams: Treasurer
Directors: John Carroll, Daniel Gallegos, Kathie Kingett, Chris Maule, Cindy Tooley, Bill Wallace, and Debbie Williamson
The Friends of Fullerton Arboretum are seeking applications from persons interested in learning more about serving as a member of the Board of Directors of the Friends of Fullerton Arboretum. You may access the application here and return it to friendsfullarb@gmail.com.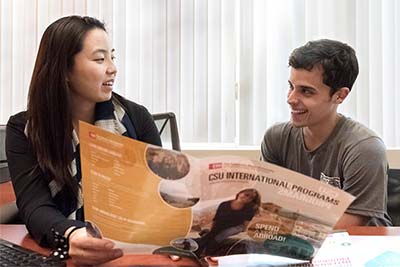 Advising
No matter where you are in the Study Abroad process, our advisors are always here to help you create an ideal Study Abroad experience that will align with both your personal and academic goals. To schedule an appointment or learn more about walk-in advising, please visit our Contact page.