Research
Fullerton Arboretum is a Level IV ArbNet accredited arboretum and one key component to our accreditation is our contribution to research and conservation projects. Our collection features plants from around the world and is made globally accessible through Botanic Gardens Conservation International. We welcome the use of our collection in a wide variety of collaborative research and conservation projects.
University Stem Initiative: Monitoring Air Bubbles in Plants
Plants that develop air bubbles in their hydraulic system don't get enough water. Severe cases can lead to the death of roots, branches or the whole plant, explains Dr. Schenk, a plant biologist and CSUF faculty member since 2002. Read the article from CSUF News to find out more.
More Research Projects
U-Acre: A Research and Outreach Partnership
View the article, "CSUF student researchers look to sweet potatoes as natural alternative in fighting aggressive weed," to read how Fullerton Arboretum, Cal State Fullerton's U-ACRE program and Monkey Business Cafe in Fullerton are partnering to provide farm-to-table produce and teach research and life skills to CSUF students and youth who have been in the foster care system.
Visit the U-ACRE page for more information.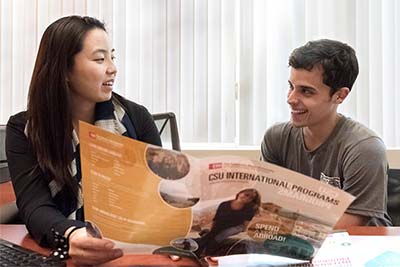 Advising
No matter where you are in the Study Abroad process, our advisors are always here to help you create an ideal Study Abroad experience that will align with both your personal and academic goals. To schedule an appointment or learn more about walk-in advising, please visit our Contact page.