Hours & Directions
Hours and days of operation are subject to change. A $5 minimum donation is suggested. All contributions are gratefully accepted to help support the maintenance and growth/development of the Arboretum.
Adhere to hourly parking signage enforced by CSUF Parking and Transportation Services.
Fullerton Arboretum Hours
Monday - Sunday
9 a.m. - 4 p.m.
Holiday Closure
January 16
Heritage House Remains Closed Due to Roof Restoration
Administrative Office Hours:
Monday through Friday
by appointment only
Arboretum Closure Dates:
Fullerton Arboretum follows the CSUF campus closure schedule. Please view the CSUF Holiday Calendar for dates.
Admission:
$5 suggested donation
*may be deposited in donation poles at the front entrance
Getting Here
We are located on 1900 Associated Rd. in Fullerton, California on the northeast corner of the Cal State Fullerton campus. We are just west of the 57 Freeway off of the Yorba Linda exit, near the intersection of Associated and Yorba Linda Blvd.
Get Directions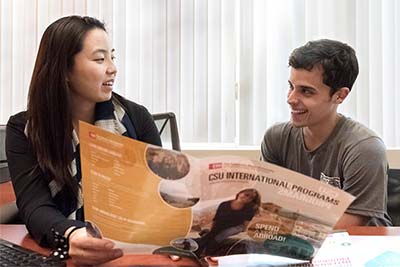 Advising
No matter where you are in the Study Abroad process, our advisors are always here to help you create an ideal Study Abroad experience that will align with both your personal and academic goals. To schedule an appointment or learn more about walk-in advising, please visit our Contact page.