Living Collections
Fullerton Arboretum is home to many different plant collections. You can use this clickable map to explore all of them. Follow these pointers to get started:
Roll over the collections map and the name of each collection will appear — along with a specific bed number.
Click on the collection name/bed and information from the Arboretum Plant Database will appear listing all the plants that can be found in that specific bed.
Hours and Directions — Click on Oak Hall (top center building in red)
Our classes — Click on Classrooms (near main entrance, leftmost red building)
O.C. Agricultural and Nikkei Heritage Museum Current Exhibit (near main entrance, red building to the right of the Classrooms building)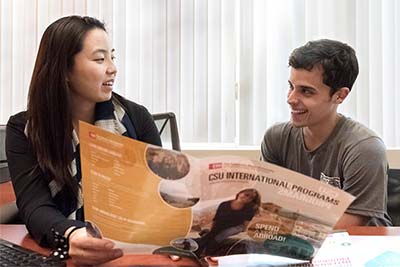 Advising
No matter where you are in the Study Abroad process, our advisors are always here to help you create an ideal Study Abroad experience that will align with both your personal and academic goals. To schedule an appointment or learn more about walk-in advising, please visit our Contact page.