Frequently Asked Questions
If you can't find the answer to your question, please contact us and we will get back to you as soon as possible.
Fullerton Arboretum is not a park. It is more like a zoo or aquarium. It has many rare, threatened and endangered plants. It also features cultivated plants of historical significance, including a nationally recognized citrus collection. The arboretum nursery propagates many of these plants to make them available to institutions around the world and to the public.
Cal State Fullerton has supported and managed Fullerton Arboretum since 2020. The arboretum's staff cares for its living and historic collections. The arboretum also relies on membership contributions, volunteers, events and donations to fund its programs, maintain operations and fulfill its mission.
Friends of Fullerton Arboretum is a group of dedicated volunteers that supports the arboretum's staff with fundraising, education, plant sales and events at the arboretum.
The arboretum is free for all to explore and learn about plants, conservation and research. It relies on donations that can be made at the arboretum entrance or through its website.
The state of California requires that all public universities charge for parking on campus, which includes the spaces in front of the arboretum. Parking to visit the arboretum currently costs $4 per hour Monday through Friday, which can be paid through the ParkMobile app. Parking is free on weekends and university holidays.
The Visitor Information Center in Lot G, across from the Arboretum, is open from 8 a.m. to 4 p.m. Monday through Friday to assist guests with downloading and setting up the ParkMobile app on their smartphones. An alternative payment method may soon be available to guests without smartphones.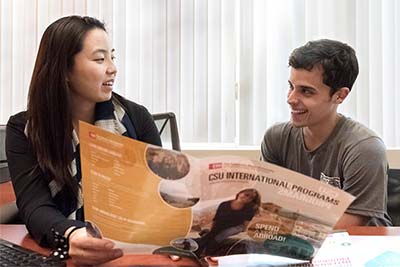 Advising
No matter where you are in the Study Abroad process, our advisors are always here to help you create an ideal Study Abroad experience that will align with both your personal and academic goals. To schedule an appointment or learn more about walk-in advising, please visit our Contact page.