There is much work to be done to ensure the success of the Fullerton Arboretum in the years to come! Your contributions helps us continue in our mission to care for these plants and ongoing projects, as well as provide for the native wildlife that calls our gardens home. Thank you for your support!
Ways to Give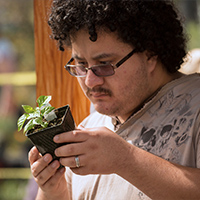 Support our Mission
Support our mission of education, conservation and preservation by making a donation or becoming a member of the Fullerton Arboretum.  Membership contributions are tax deductible as prescribed by law.  It is easy to make a donation online where you can help to fund:
Scholarships for California State University, Fullerton students pursuing advanced degrees in Biology and History.
The care and growth of the living collections of Fullerton Arboretum.
The care and maintenance of Heritage House.
A Memorial Gift to honor a friend or loved one.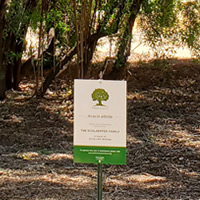 Sponsor-a-Tree Program
Fullerton Arboretum holds an extraordinary collection of trees from nearly every country in the world. The Fullerton Arboretum Sponsor-a-Tree Program supports the annual care of a select number of trees in the arboretum and our Level IV accreditation because healthy trees (particularly rare and threatened species) ensure offspring (germplasm) for tomorrow's plants.  Your tax-deductible gift will directly fund the care for a specific tree in the garden for a period of 1 year. Your gift will be recognized by a personalized sign placed near the tree.  Our Sponsor-a-Tree program is a meaningful way to honor a loved one, celebrate a milestone birthday, a special occasion or to show your love for your favorite Arboretum tree.  For trees in need of a sponsor and gift amount, please contact the Development Office at (657) 278-4798 or hbouldin@fullerton.edu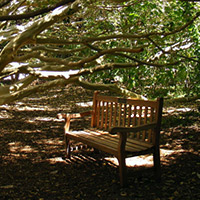 Garden Benches
Honor a loved one or a special occasion by purchasing a garden bench including your personalized inscription on a brass plaque.  Throughout the arboretum, we have identified a limited number of locations that provide an ideal setting for distinctive wood benches where one can relax and enjoy the view.   Your tax-deductible gift of $10,000 provides important support for Fullerton Arboretum and places a bench in the garden for a fixed term of 10 years. For details on purchasing a garden bench, contact the Development Office at (657)278-4798 or hbouldin@fullerton.edu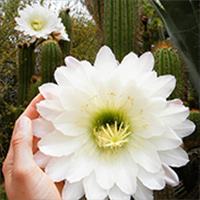 Planned Gifts — Planting the Seed of a Legacy
Charitable bequests and beneficiary designations are easy ways to "plant the seeds" of a future gift for the Arboretum. By designating the Arboretum as a beneficiary of a qualified retirement account or life insurance policy, you can provide a significant gift to the Arboretum.
There are several advantages to both bequests and beneficiary designation gifts:
Revocable — You can modify or revoke the gift at any time during your lifetime.
Avoid Probate — Bequests and beneficiary designations avoid the probate process.
Simple — Consult your estate attorney or simply fill out a brief beneficiary designation form provided by the plan or account administrator.
If you are interested in establishing your legacy and making a lasting impact at the Arboretum, please visit csufplannedgift.org
or contact our Office of Planned Giving at 657-278-3947 or CSUFPlannedGift@fullerton.edu.
Plant Donations
We normally do not accept plant specimens as donations. If a plant is rare or unusual we may want to add it to our collections, but there is a high risk of disease transmission from foreign plants. Please contact our front desk at 657-278-3407 or farboretum@fullerton.edu to see if your plant would be a suitable addition to our collections.