Water Stewardship at Fullerton Arboretum
Much of California and the West are in a prolonged and worsening drought. Fullerton Arboretum recognizes the importance of water conservation and is a leader in modeling drought resiliency in Orange County outdoor environments, where up to 50% of annual residential water use occurs. We have taken the following steps to reduce water use while sustaining the health of our garden collections and achieving our educational mission.
Lawn Reduction
Grass lawns have been eliminated around Oak Hall and the Heritage House during the past decade and replaced with native vegetation. Additional turf removal is expected in the near future.
Irrigation
High efficiency sprinkler heads, irrigation valves, and automated controllers have been installed throughout the Arboretum. This upgraded system is connected to the National Oceanic and Atmospheric Administration (NOAA) to ensure that irrigation does not occur when soil moisture is adequate and evapotranspiration rates are low. Irrigation occurs at night to reduce wastage. Some of the system uses drip irrigation, including our palm tree collection, stone fruit orchard, flower field, and the U-ACRE partnership produce farm. Other collections, such as our desert ecosystem, need very little supplemental water and are sparingly hand-watered.
Plant Collections
A significant portion of Fullerton Arboretum is focused on drought tolerant collections from Mediterranean climate regions, especially those from southern California and the Channel Islands, as well as deserts and dry environments from around the world. This includes the American Southwest, South Africa, Madagascar, Chile, and Australia.
Horticultural Techniques
Our horticultural team continuously monitors our irrigation equipment to ensure that any leaks are fixed promptly. They also make extensive use of compost and mulch throughout the Arboretum to improve plant vigor by retaining soil moisture and reducing evaporation. It also serves to suppress weed growth. Much of this material is produced directly at the Arboretum by recycling our biomass along with some campus food waste. In addition, portions of the landscape have been designed to create swales and basins that trap precipitation and allow it to percolate into the local aquifer.
Infrastructure
The entrance waterfall, stream and two pond system are operated as a recirculated hydrological system. The Arboretum hopes to significantly improve its efficiency through a capital improvement project in the near future. A new water bottle refill station is being constructed at the Nature Center this year to encourage visitor use of reusable water bottles. Bathroom fixtures in the Bacon Pavilion are low water use. Additionally, water fixture upgrades will be installed in the Nature Center and Oak Hall.
Campus and Public Education
Arboretum staff, student interns, and docents provide water conservation information to the campus and our communities through social media, walks and talks, school tours, native plant sales, discovery stations, and brochures. Water conservation workshops are also offered.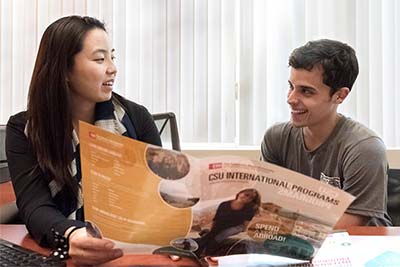 Advising
No matter where you are in the Study Abroad process, our advisors are always here to help you create an ideal Study Abroad experience that will align with both your personal and academic goals. To schedule an appointment or learn more about walk-in advising, please visit our Contact page.