Speaker's Bureau
Our Speaker's Bureau is currently inactive due to limited resources.
Need a speaker for your organization? As part of our community outreach, Fullerton Arboretum can tailor presentations to meet the interests of your community group.
Learn about Arboretum
Collections

& History

Most presentations are about 30 minutes, which includes a powerpoint with photos about the history of Fullerton Arboretum, plant collections, historical collections, classes, events, volunteer opportunities and more.

A donation to Fullerton Arboretum is appreciated and can be given to the presenter at the conclusion of the program.

To arrange for a speaker, please complete and submit the form by clicking the button below. We ask that requests be made at least 4 weeks in advance of the speaking date.

For additional questions, email hbouldin@fullerton.edu.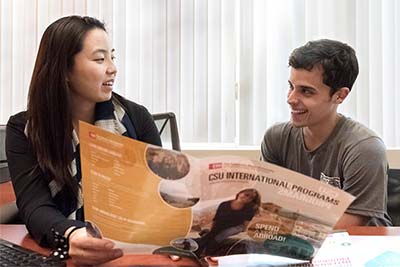 Advising
No matter where you are in the Study Abroad process, our advisors are always here to help you create an ideal Study Abroad experience that will align with both your personal and academic goals. To schedule an appointment or learn more about walk-in advising, please visit our Contact page.