Rental Policy
In order to acquire the funds necessary to maintain and promote Fullerton Arboretum, fees must be charged for the use of the Arboretum.
Terms and Conditions for Use of the Arboretum Facility
Permitted Uses: Activities and educational programs that promote the enjoyment and knowledge of the botanical garden and local history collection are encouraged. Some social gatherings having a low impact on the grounds and the ambiance of the Arboretum are permitted by approval of the Arboretum Director.
Non-Permitted Uses: Activities including sports and uses which impair the peaceful enjoyment of the grounds, such as highly amplified music, are prohibited. Uses which are inappropriate include, for example, prom activities.
Scheduling a Use: All uses are scheduled through Fullerton Arboretum by submitting a "Fullerton Arboretum Meeting or Event Request Form" to the receptionist no less than thirty (30) days in advance of intended use. The Arboretum Director must approve the use. The Arboretum reserves the right to refuse use. All fees and deposits are due prior to the use date.
Priority of Event Scheduling: Arboretum educational and fund-raising events, including weddings, will have priority over outside events. Non-discounted events shall have priority over discounted events. Generally, outside events will be accepted on a first -come, first-served basis. The Arboretum Director will have authority in these matters.
Multiple events may be held concurrently on the Arboretum grounds. The Arboretum may conduct plant sales and operate the gift shop and offer educational programs at any time, regardless of other events.
Comprehensive General Liability Insurance Requirements: The Arboretum may require evidence of insurance coverage for outside users of Fullerton Arboretum, especially if the user is conducting business at the Arboretum. If insurance is required, it shall be liability insurance equal to that of the Arboretum (currently $1 million) and shall name Fullerton Arboretum; the State of California; the California State University, Fullerton (CSUF); the CSUF Associated Students, Inc.; and all of their respective departments, organizations, boards, commissions, officers, agents, and employees as additional insured.
Release of Liability: All users must complete a "Fullerton Arboretum Liability Release Form" prior to use of the grounds or buildings.
Service Providers: Due to Fullerton Arboretum's tax status, Fullerton Arboretum does not provide tables, chairs or food services to the public. A list of approved providers of rental equipment and catering services is available.
Set-up and Take-down: All users are responsible for leaving Fullerton Arboretum in the same condition it was in before the user arrived. This may include clean-up after the event.
Alcoholic Beverages: Alcohol may be served only through the auspices of an approved provider. Users are not allowed to serve themselves. Use must be consistent with Federal, State and Local laws. Kegs and Champagne Fountains are not allowed. A license to sell or serve alcoholic beverages is required, a copy of the license must be presented to the Arboretum Director or designee at least 30 days in advance.
Use of Controlled Substances: The University prohibits the possession, manufacture, sale, service, purchase, display, and/or consumption on University property of any controlled substance, including marijuana.
Event Staffing: Staffing by Arboretum personnel is required for events to protect the interest of the Arboretum. The number of personnel is dependent upon the type of event, time scheduled and equipment to be used by the group.
Security Staffing: Certain types of events require security personnel in addition to Arboretum staff, such as when alcohol is served, but not limited solely to such occasions. When this service is determined to be necessary by the Arboretum Director, CSUF Public Safety shall perform security services. These services shall be arranged by Arboretum. The number of security personnel needed is dependent upon the type of event, time scheduled and number of attendees.
Authorization for Use of Fullerton Arboretum: The Arboretum Director shall screen or approve or disapprove all applications for Arboretum use, and shall have authority to set fees and regulations as necessary in good judgment.
General Miscellaneous Rules and Regulations
No rice, birdseed, rose petals, or other items are to be tossed by guests. Only the use of bubbles or ringing of bells, and tossing of flower petals by flower girls are permitted.
A Wedding Coordinator is included in the cost of every wedding. The day of, responsibilities will be to assist with the ceremony if needed, and ensure that the Arboretum contract is adhered to, e.g.; hours are honored, alcohol with security, etc.
If you have a Wedding Coordinator, they must coordinate with the Facility Rental Manager all set up and day of coordination 30 days in advance.
Heritage House will be open at the time on the contract and must be cleaned up 30 minutes after the ceremony by a person not needed by the photographer for pictures. Wedding vendors are allowed on the site 2 hours before for set-up and 45 min after for clean-up. We suggest you come in 1 hour ahead of your ceremony for the bridal party getting ready. See Rider C at time of booking.
The Arboretum cannot be held responsible for the activities held at the CSUF Stadium, such as games or concerts, etc. We receive a schedule months before the activities; if you call we can advise you.
A Certificate of Liability Insurance and General Policy Endorsement with evidence of $1,000,000 limits must be filed with the Event Manager 45 days before event. This includes all equipment rental, caterers, florists, musicians, or other vendors servicing your event. No vendor vehicles are allowed on the grounds without proof of this liability insurance. Individuals delivering goods or supplies without this insurance coverage will have to do so from the main gate or maintenance areas to the event site.
You will need individuals to help you take gifts to your vehicle at the conclusion of your ceremony.
No alcohol will be served without the services of CSUF Public Safety prearranged with Event Manager. A bartending service or caterer must serve all alcohol with a bartender. No kegs, fountains, or full bottles of wine or champagne are allowed on the site where guests may help themselves. The bar will be closed 45 minutes to the end of your event by the coordinator and or security. If alcohol is to be served, proof of Liquor Liability must be provided by caterer/bartending service on the Certificate of Insurance.
If you are having a wedding/reception after 3:00 p.m. on a Saturday and change to a wedding only, the 6 hours price still remains in effect. We will be a happy to reschedule your wedding time to another day or same day if the time is available.
Only approved caterers may provide food and beverage service during your event. A list will be provided.
Only approved rental companies can place their equipment on our site. No chairs or tables, etc. can be used from home, church, or other rental company or caterer. Table top items may be provided by your caterer such as tablecloths, chafing dishes, etc. A list will be provided. No ladders of any kind may be used except by equipment rental company.
The use of candles must be in glass chimneys for safety reasons; it is a state law.
No Fireworks of any kind including sparklers are allowed and are illegal.
Fullerton Arboretum does not allow animals on the grounds. We do not approve the release of doves or butterflies at the Arboretum.
Rehearsal may be changed if the Arboretum can schedule a wedding/reception at that time.
All deposits given at time of signing contract are non-refundable and non-transferrable.
Your vendors must provide their own extension cords. Requirements are; Lake 300 feet, Orchard Lawn 100 feet, and Arbor 25 feet.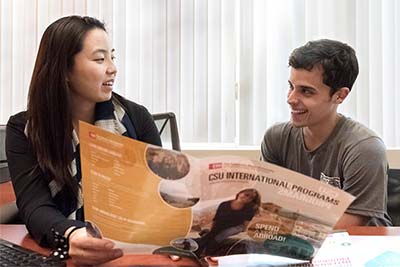 Advising
No matter where you are in the Study Abroad process, our advisors are always here to help you create an ideal Study Abroad experience that will align with both your personal and academic goals. To schedule an appointment or learn more about walk-in advising, please visit our Contact page.