Photography Permit Request Form
A photo permit is required for all posed, formal and professional photography at Fullerton Arboretum.
Use this form to request your photo permit. Please see map for available locations.
Permits cost
$100 for 1-10 people
$200 for 11-19 people
Groups larger than 19 will incur larger fee and require a reservation with 15 days notice.
Evening Session Photograpy: *Require reservation with 15 days notice*
$300 for 1-10 people

$400 for 11-19 people
groups larger than 19 people must make prior arrangements with office and will incure larger fee.
This permit is for personal use only. For commercial photography, please contact the Facility Rentals Coordinator at 657-278-4792.
Once you receive your photo permit, you must have it with you at all times while taking photos and adhere to the following rules and guidelines:
Your permit is valid for an hour and a half of photography on your scheduled day and time only
Wear appropriate clothing at all times. Nudity and swimsuits are not permitted.
Props are subject to approval. Limit to one bag. No confetti or balloons allowed.
The entire party must be present to enter the garden for a photo session at your appointed time, camera-ready. No wardrobe changes.
Face masks must be worn at all times but can be removed briefly when the photo is taken. (Subject to change per CDC, County and University Guidelines)
Do not bring alcohol onto the grounds of the Arboretum.
Stay on the paths. Stay out of all demonstration gardens.
Do not take photos from within the white picket fence surrounding the Heritage House. You may take photos of the house from outside the fence only. No photos are allowed from the porch or stairs.
Boisterous or unruly groups will be asked to leave the Arboretum.
No video allowed.
No refunds.
To reschedule, notify the office prior to the date of your permit.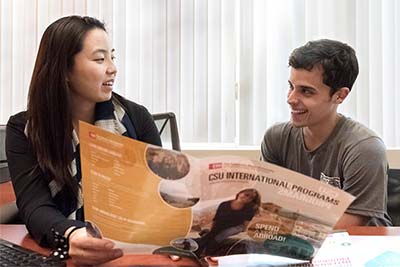 Advising
No matter where you are in the Study Abroad process, our advisors are always here to help you create an ideal Study Abroad experience that will align with both your personal and academic goals. To schedule an appointment or learn more about walk-in advising, please visit our Contact page.